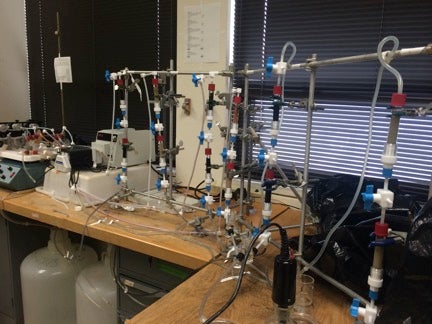 Research Project Full Title: EPA WINSSS Project D: Biological Management of Nitrogenous Chemicals in Small Systems: Ammonia, Nitrite, Nitrate, and N-Disinfection By-Products
Principal Investigator(s): Drs. Mary Jo Kirisits, Gerald E. Speitel (University of Texas), David A. Reckhow, Chul Park (University of Massachusetts), Jess Brown (Carollo Engineers)
Researchers: Dr. Michal Ziv-El, Dr. Sarah Keithley, Emily Palmer, Ethan Howley, Able Ingle, Emily Hannon, Soon-Mi Kim, Celina Dozier
Sponsor(s): U.S. Environmental Protection Agency
Full Abstract: As source water quality declines, small systems are increasingly faced with nitrogenous contaminants that negatively impact human health and/or water quality. The overarching objective of this project is to biologically manage the nitrogenous contaminant grouping (i.e., ammonia, nitrite, nitrate, and nitrogenous-disinfection by-product [N-DBP] precursors) and to demonstrate that such biological processes can yield other water quality benefits related to trace organic compound (TrOC) removal.
Nitrification, TrOC removal, and microbial community structure will be studied in biofilters at the bench- and pilot-scale; NOM from a groundwater and from a surface water will be concentrated and used to operate parallel bench-scale nitrifying biofilters. The impact of soluble microbial products (SMP) on TrOC biodegradation will be studied in controlled batch experiments. Denitrification will be studied in biofilters at the bench-scale. Using effluent from the biofilters, the formation of N-DBPs (halonitromethanes, haloacetonitriles, haloacetamides and N-nitrosodimethylamine) will be examined. The bench-scale nitrifying and denitrifying biofilters will be run at the University of Texas. The N-DBP experiments will be conducted at the University of Massachusetts. The SMP experiments will be conducted jointly by both universities.
Project D results are expected to demonstrate that biological processes are a robust and sustainable option for small drinking water systems and that they can be used to manage nitrogenous contaminants as well as to positively impact TrOC removal.
Additional Links: WINSSS Center website, https://www.umass.edu/winsss/