Full Title: Enviromap and UTBiome: Mapping Enviromental Quality at the University of Texas at Austin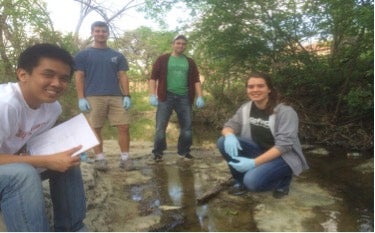 Principal Investigator(s): Paola Passalacqua and Kerry Kinney
Researchers: Juan Pedro, Harish Sangireddy, Fernando Almada Calvo, Stephen Curtis Feronti, Felipe Gutierrez, Shahana Khurshid, Chloe A. Woolridge, Alexandra Caya, Eric Hersh, Michal C Ziv-El, Richard Corsi, Lynn Katz, Jay Banner
Sponsor(s): UT Longhorn Innovation Fund for Technology
Full Abstract: The effect of climate change on microbial diversity, the interactions between human occupation and the microbiome present in buildings, the rich microbial community present in surface water, tap water and even reused water can now be explored in new ways. However, much of this data is difficult to access for our students and even for fellow researchers who are interested in investigating the environmental, health and ecological implications of this newfound diversity of microorganisms.
The UT BIOME project addresses this need by: (1) engaging the UT community in the collection and analysis of environmental samples from across the UT Austin campus (essentially using UT Austin as a "living" laboratory) and (2) developing an interactive mapping platform that users within and outside the university can access to download biome results and associated environmental data by simply clicking on the map.
Our research group has focused on the development of the interactive map. While the initial platform has been developed for the microbiome and associated environmental data collected from across campus, we envision that the platform will provide a foundation that can be used in the future by the broader community for any variety of environmental, energy, infrastructure or even health related coursework or research.